Seen:  ICU / Intensive Care UnitWho: 野々山 裕樹 / Hiroki…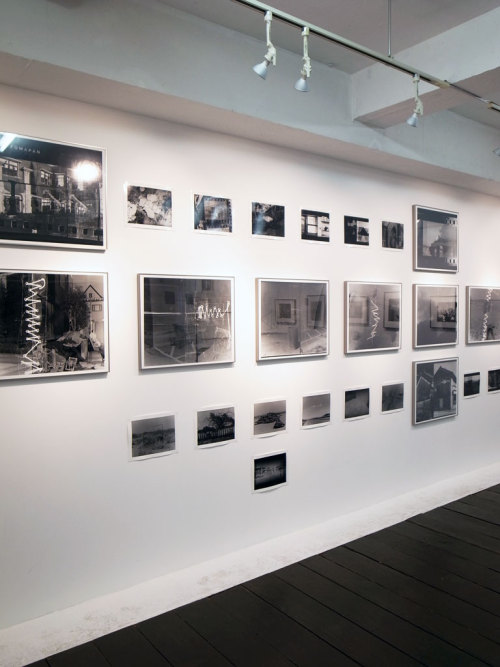 Seen:  ICU / Intensive Care Unit
Who: 野々山 裕樹 / Hiroki Nonoyama
Where: Totem Pole Photo Gallery, Shinjuku
When: January 14 – 19, 2020 12:00 – 7:00 (Closed Mondays)
Many of the prints in photographer Hiroki Nonoyama's show are the results of how he "deconstructs" his negatives with scissors and then, with tape and sometimes thread, establishes a new, contradictory plane of gelatin to print. No photoshop here- everything he does is done in the darkroom, in real life.  
Other prints are attuned to his interest in creating images with subdued, near-flat contrast.  While the majority of the photographs were taken in rural Texas, the interpretation of the pictures, his methods, and aesthetic are entirely open to the viewer.
Super Labo Store Tokyo, ShibuyaKonica Hexar Photographer: Haruna…
Super Labo Store Tokyo, Shibuya
Konica Hexar 
Photographer: Haruna Sato / website / instagram 
Seen: Osaka PortraitWho:  Shunji DodoWhere: CASE Tokyo,...
Seen: Osaka Portrait
Who:  Shunji Dodo
Where: CASE Tokyo, Shibuya
When: January 10 – 25, 2019
Portraits shot in 6×6 format with natural light are, historically, technically, and aesthetically, perhaps one of the most revered ways to make a picture of someone. The pictures of the someones whom Shunji Dodo has encountered and photographed in Osaka's Shinseikai district since the late 70s make for a good addition to this photographic stream.  The pictures also work well with Hiroh Kikai's 6×6 monochrome portraits of Tokyo shitamachi citizens which are concurrently exhibited at Nanzuka one floor below.
Seen: Ya-Chimata Who:  Hiroh KikaiWhere: NANZUKA, ShibuyaWhen:...
Seen: Ya-Chimata 
Who:  Hiroh Kikai
Where: NANZUKA, Shibuya
When: January 10 – 26, 2020
Nanzuka Underground in Shibuya is a showing of vintage prints of Hiroh Kikai's Asakusa portrait series, Ya-Chimata. From the late 1970s into the mid 2010s Kikai took his Hasselblad to Asakusa and created a series of portraits of Tokyo locals that astonishes in its frank presentation and quality of spirit. Seeing these prints in person is a treat- the gallery itself, found deep in the lower basement of a building in Shibuya is an interesting venue for his work.
A sort of companion show, Shunju Dodo's 6×6 monochrome portraits of Osaka's Shinseikai citizenry is concurrently exhibited at CASE Tokyo, one floor above. The two shows compliment each other extremely well and make for a good afternoon of photography.

Jimbocho, TokyoFujica ST 701 with 55mm f1.8 Super-Takumar…
Jimbocho, Tokyo
Fujica ST 701 with 55mm f1.8 Super-Takumar lens
Photographer: yyyyyy1968
ShinjukuLeica M7 a la carte with Carl Zeiss Biotar 58mm f2 lens 
Shinjuku
Leica M7 a la carte with Carl Zeiss Biotar 58mm f2 lens 
Shinjuku
Hasselblad couple
Totem Pole Photo Gallery Fujifilm GA645…
Totem Pole Photo Gallery 
Fujifilm GA645 Professional
Photographer: Sev Collazo website / instagram
Totem Pole Photo Gallery, ShinjukuLeica M6 with 50mm f2…
Totem Pole Photo Gallery, Shinjuku
Leica M6 with 50mm f2 Summicron lens
Totem Pole Photo Gallery, ShinjukuZeiss Ikon with Leica 35mm…
Totem Pole Photo Gallery, Shinjuku
Zeiss Ikon with Leica 35mm f1.4 Summilux Asph. lens
ShinjukuKonica Hexar RF with a Minolta M-Rokkor 40mm f2…
Shinjuku
Konica Hexar RF with a Minolta M-Rokkor 40mm f2 lens
Photographer: Matt Schley / instagram